Traditional Bridal Jewellery Guide of South Indian Weddings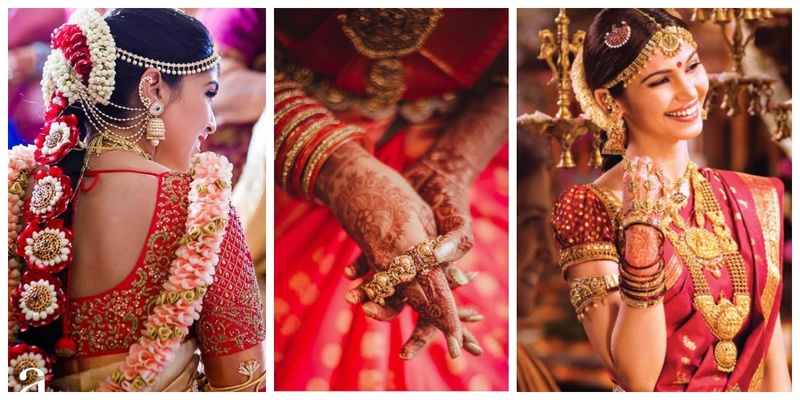 When you think about a South Indian wedding, you can't help but think about the brides adorned in heavy Kanjivaram silk sarees and the lavish Temple Jewellery.
Although Temple Jewellery is prevalent to the Southern part of India, brides from across India are taking major jewellery inspiration from the South Indian brides…and so are we!
Here's a total guide to the different ornaments of Temple Jewellery that you can pick for your wedding.
1. Nethi Chutti
Image Source: Aaharya
Nethi chutti is the primary ornament to any Indian brides also known as Maang tikka in North. There are numerous designs but traditional Nethi Chutti studded with Kundan, Kemp stones and pearls is nothing less than resplendent and divine.
2. Jhumka
Inspired from the rich architecture of temples and idols of gods and deities, the earrings accentuates your bridal look.
3. Kasulaperu
Image Source: Aaharya
Kasulaperu is a royal kasulaperu for your neck. Traditionally designed in gold and kemp stone studded in Goddess Lakshmi, strapped together in a chain, it is a must ornament for every South Indian bride.
4. Manga Malai
Manga Malai, a mango mala is a traditional South Indian long necklace designed in mango motifs. You can also choose to pair it with a nice choker.
I am totally getting this one for myself!
5. Vadiyanam
Vadiyanam another name for kamarbandh, gives the bride a composed and timeless look.
6. Vanki
Vanki aka Bajubandh is an integral part of jewellery designs in Temple Jewellery.
P.S. while wearing a traditional Temple vanki, try to go with short sleeves or a cap sleeves blouse. It will totally enhance your look.
7. Valayal – Bangles
Image Source: Luxumy Vaasam
Not sure what is the first thing a girl fall in love with, but bangles surely belong to the list!
Bangles in Temple Jewellery are brilliantly crafted in various motifs like peacock, gods, and deities.
8. Jada Billa
Image Source: Makeoverz
It is a classic piece of jewellery unique to South Indian brides.
Without the exquisite flowers and Jada Billa adorning her braid, the South Indian bride can never be fully dressed and ready for her wedding!
9. Anklets
Anklets are one of the important jewellery pieces of a woman's adornment.
10. Toe Rings
Toe rings are a must for a married woman. The brides wear toe rings during her wedding ceremonies.
Toe rings complete a bride's appearance from head to toe.
And they are cute!
Royal, timeless and ethereal, these Temple Jewellery pieces are an inspiration for all the brides-to-be.