search
Search for venues, vendors and more
Abhishek and Deepika's Big Fat Indian Wedding – When Love Comes Knocking!
3rd February 2021 marked the date of the union of two souls to walk on the path of love forever. Abhishek and Deepika made a decision to share their lives after contemplating a lot of things, however in the end what matters is that when love comes knocking, you always open the door.
They tied the knot in a big fat Indian wedding setting. We want to tell you everything about it, but hold on a little, let's start with their story first.
The Love Story
Their love story is a little different, it wasn't love at first sight or they didn't go gaga over each other on their first meeting. They met in a formal arrangement set up through an agent. Yes, it is an arranged marriage. They didn't click at the first meeting, they took their time to think it through and eventually they said yes. They said yes to spend their eternity together.
The Proposal
On asking about the proposal, Deepika chuckled and said that Abhishek said yes first and she took her time to say yes. She also gave us a little insight into her brewing love and romance. On talking about the most lovable or romantic moments of their love story or what made them love each other, she talked about care, respect, and efforts that Abhishek took to woo her were just adorable. He handles all her mood swings with ease, he helped her in choosing outfits, he also took extra efforts to get a box of chocolates customized with #ABHIKA on it (PS:- Time to fall head over heels with these guys) for the first Karwa Chauth before the wedding. Not only the chocolates, but he also gifted her an iPhone. Who wouldn't fall in love when you find such a romantic partner.
The Wedding
Their wedding was nothing short of a grand ceremony. It was a big fat Indian wedding where the decor was a mix of an Indian traditional look and a hint of a western theme. The entire wedding ceremony went on for a couple of days – cocktail party, engagement, Haldi, Mehendi, then finally the grand wedding and the reception. Every function was regal, the decor, the wedding couture, and their adorable pictures melted our hearts for sure. Don't believe us? Have a look at their pictures and you will fall in love with them. They are planning to go to the Maldives for their honeymoon. They also made a joke on this one that it is the only place where they can go after Covid.
The Photographs
Here are the amazing pictures that we were talking about. They also had an amazing pre-wedding shoot done. On talking about the best part about their wedding, she said she loved photography as well as videography. They are super happy with Safarnama Films as their photographer.
Scroll down to see their amazing pictures.
Dream Team
Photographer- safarnamafilms
Bridal wear- sudhirbhaisareevala
Groomswear – andglory_official
Makeup Artist – Engagement- makeoverbymanleen
Makeup Artist- Reception and Wedding – atulchauhanmakeovers
So, this was all about Abhishek and Deepika and their big fat Indian wedding. So, we can rightly say when love comes knocking at the door, no one can stop themselves from falling into it.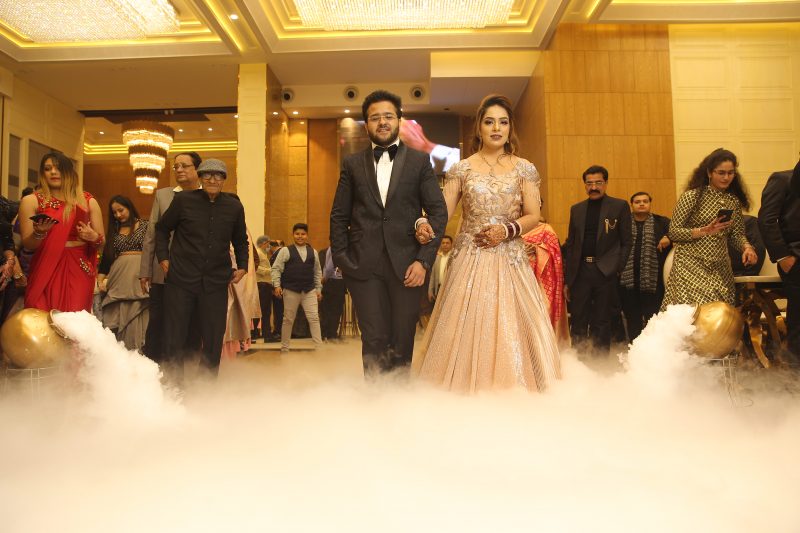 Get upto 30% Off on Venue & Services