Real Wedding Stories blogs on Weddingz.in
 Search for venues, vendors and more
By Search Term
By Sub Category
Category -
Blog

Or further search by keywords
Selected Category:


Popular localities in your city-
Latest Posts
The fall is full of gorgeous shades and hues ranging from oranges to the darkest blacks to peach...
Read More
Planning a wedding is a task, but planning a royal one is a detail-oriented process, i.e., humon...
Read More
Your wedding jewellery isn't just jewellery on your wedding day because Indian families equate j...
Read More
Dear men, it can be quite a daunting task to plan a proposal today, especially when you're surro...
Read More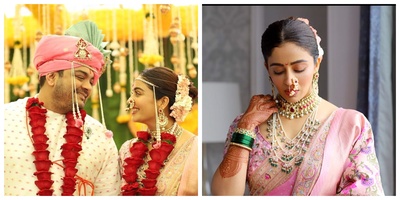 Just 7 days into 2020 and Instagram is abuzz with yet another celebrity wedding. TV actress Nehh...
Read More
Sania Mirza's sister Anam Mirza recently tied the knot with former cricketer Mohammad Azharuddin...
Read More
For the nuptial ceremonies to be ideal, both weddings and receptions are equally important. Bang...
Read More
As mere mortals, the urge is to stand out from the crowd. Ask any fan of Hollywood movies, a chu...
Read More
If you are an introvert, most probably a big fat Indian wedding is not your cup of tea. If you a...
Read More
Born with a silver spoon in your mouth, you are accustomed to a fabulous lifestyle. Any ordinar...
Read More
Every city has a character and perhaps 'extravagancy' is the one outsiders associate with Delhi ...
Read More
Mumbai, 'the city of dreams' is where people from all over the planet flock to realize their dre...
Read More