Communities blogs on Weddingz.in
 Search for venues, vendors and more
By Search Term
By Sub Category
Category -
Blog

Or further search by keywords
Selected Category:


Popular localities in your city-
Latest Posts
If you have attended a Goan wedding you know what all the inside drama, fun and the snazzy detai...
Read More
Don't discard the backyard wedding idea just yet. There are some wonderful things you can do to ...
Read More
Hinduism, a religion followed majorly by the Indians, is the third-largest religion in the world...
Read More
A traditional wedding in Kerala is an intimate affair that generally takes place in the morning w...
Read More
Weddings are said to be made in heaven. This white destination wedding held in the Morrocan sunsh...
Read More
Dreaming of that vintage dress but you don't know where to begin? If you've been that bride who h...
Read More
15 Interesting Wedding Myths And Beliefs Around The World Myths and beliefs have been passed on t...
Read More
In India, there are 100s of regional communities, each one residing in close proximity to the oth...
Read More
  Indian weddings are like a gigantic pool of  emotions, thoughts, ideas and beliefs. They are li...
Read More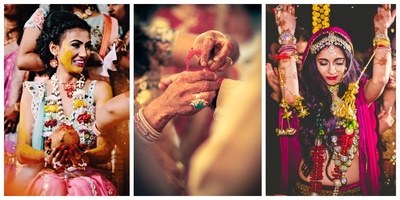 Think about Marwari wedding and you can already picture a grand, colourful and lavish Rajasthan...
Read More
Who would've known that Sheldon would actually get married? :D For those of you who follow The ...
Read More
Rajasthan is the land of rajas and ranis; and their food is just as royal. So of course, every M...
Read More