South Indian Weddings Suggestions For You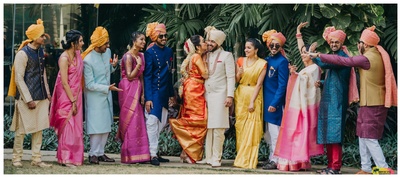 Akshera and Rohith got hitched in a fun filled wedding at Mumbai. Their big fat Indian wedding ha...
Read More
The magnificent wedding bash of Atul and Vasuki held right near the skyline of Mumbai in the gran...
Read More
Sindhu and Charles recently got hitched in two dreamy wedding affairs and their wedding pictures ...
Read More
Maya and Revantha recently got hitched in a wedding in Sri Lanka, which was absolutely gorgeous. ...
Read More
Sayali and Kirthi recently got hitched in a gorgeous traditional South Indian wedding at ISCKON T...
Read More
Tanvi and Ashrith's gorgeous wedding is taking the internet by storm for several reasons! From a ...
Read More
Starting with a New Orleans-style jazz night in Mumbai and winding up at a palace reception in Gw...
Read More
Richa and Abhilash, just got hitched in the most serene and beautiful wedding at Bal Samand Lake ...
Read More
We love inter cultural love stories, especially when they end at gorgeous beach weddings in Goa! ...
Read More
College romances are the great love story of our generation. So what beats a college story? A we-...
Read More
Aakriti and Rajeev just got married in Delhi, hosting an adorable south indian wedding while stil...
Read More