Dreamy Indian Wedding Celebration of Abhishek and Ritu – 8 Years to Forever!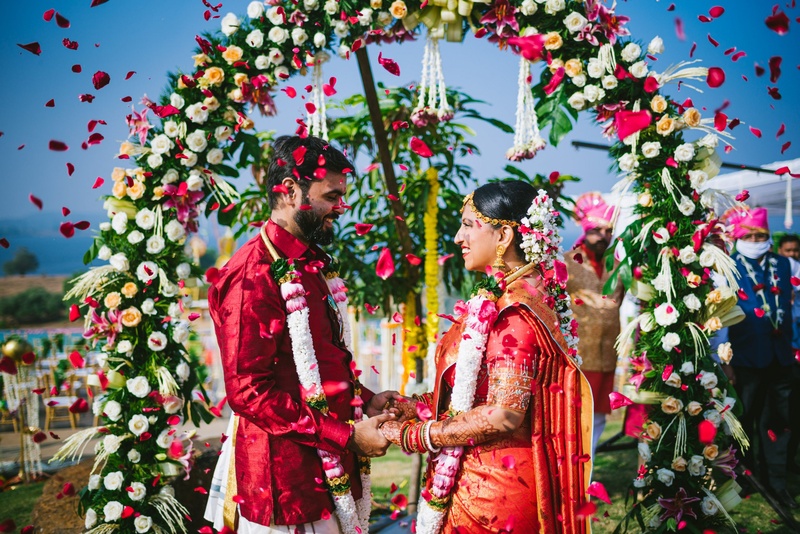 "We don't choose love, love chooses us."
This is perfectly fit for the couple, whose story we are about to share today. Abhishek and Ritu tied the knot after being with each other for roundabout 8 years. Isn't this just amazing? You meet someone, you fall in love and it stays forever. That is pretty much the summed up version of their love story. Don't worry, this is not all, we are going to take you along with us on the ride of their love adventure. Hang on tightly, here we go!
The Story
Like many other love stories, even this one involves friends. Sound cliche, right? One of their common friends introduced them to each other, then the rest became the love story for all of us to cherish. Ever since they met, they have been together. Their eight-year-old friendship blossomed into a beautiful relationship and ultimately led to a spectacular 4-day long Indian wedding festivity.
The Proposal
The best part of their wedding tale is the proposal. Unlike the cliche start of their love story, their proposal story is hands down unique. Abhishek played a secret trick, he changed his name on Ritu's cellphone to "Will You Marry Me". Yes, this indeed is so romantic and we are sure you are excited to know what happened next. He called Ritu and she got confused looking at the name that popped on the screen. She turned to Abhishek and told him that see somebody named "will you marry me" is calling on my phone. That was the cue to Abhishek, he pulled out the ring and proposed to her like a true gentleman. Of course, she said Yes, and then we got to witness their beautiful Indian wedding celebration. Don't you also agree that this was one of the best proposals we have ever known about?
The Wedding
Their wedding took place amidst the pandemic. They planned an intimate Indian wedding ceremony at a remote place in Maharashtra. Along with their beautiful wedding ceremony, they also had 4 pre-wedding festivities namely Haldi, Mehendi, Mandap Mahurat and an intimate cocktail party with their close family and friends. Ritu planned the wedding with the assistance of the Wedding Wale's team. They had all the colours to make their Indian wedding full of glory while it showcased a transition into an elegant affair of muted and chic tones.
The Photography
Their entire wedding was captured by WhatKnotIn. They managed to capture every little detail and every little emotion. Their seamless photography was well appreciated by the couple itself. Infact, the groom went ahead to say, "every photograph captured makes me relive my wedding even today." Have a look at the pictures and you will fall in love with this adorable couple.
Dream Team
Wedding Planner- Wedding Wale
Photographer– WhatKnotIn
So, what do you think about their beautiful love story? Ain't you in love with it? We truly are.