search
Search for venues, vendors and more
20 Orange Lehengas that prove 'Orange is the New Red' when it comes to Bridal Lehengas!
Orange is definitely the new red when it comes to bridal lehengas. Orange lehengas have been trending this wedding season and how! One of the reasons why orange is such a fad these days is because it suits Indian skin tones perfectly and makes the bride look radiant. Secondly, it's orange; hard to miss such a vibrant color, right?
If you too are looking to opt for an orange lehenga choli for your wedding or pre-wedding functions, then here are some ah-mazing ones that will steal your heart just like they did ours!
1. The heavily embellished orange lehenga: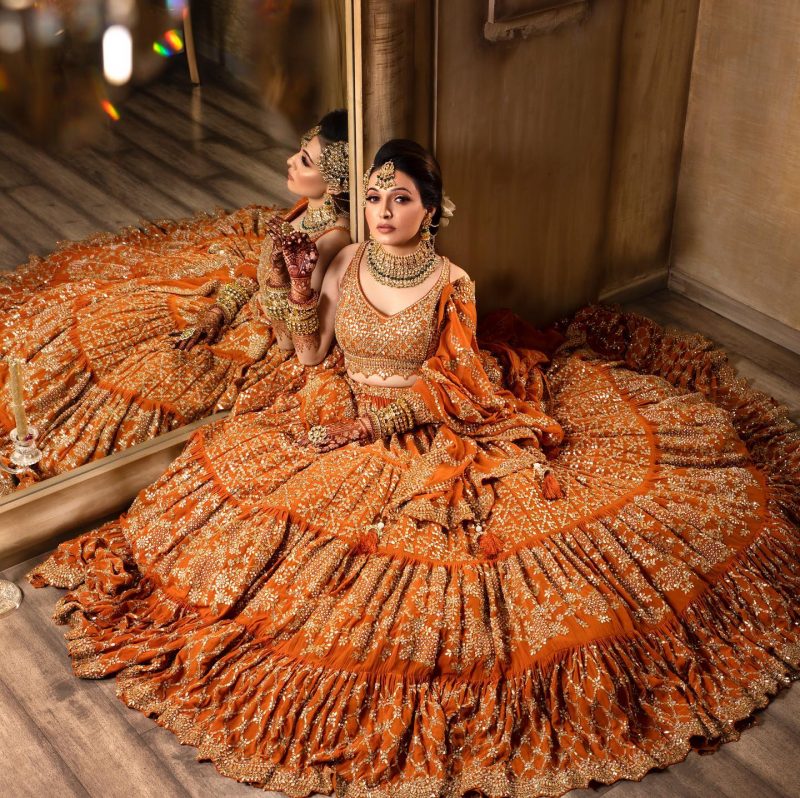 Image Source: Rose Creations Ludhiana
2. Floral White Embroidery on Orange Mirrorwork Lehenga – Loving it!
Outfit by Mishru
3. Mirrorwork Magical Orange Lehenga coming up next
Image Source: Estie Couture
Image Source: Abhinav Mishra
4. A Sabyasachi Bride is a Vision in Vivid Orange
Image Source: Dream Catchers Photography
5. The stunning Banarasi lehenga to channel your traditional vibes:
6. Did you say orange ombre? What's not to love:
7. Make way for the classic gold and orange combo:
8. Shades of Orange
Image Source: Youngberry Official
9. Orange + Pink = Oh-So-Gorgeous:
Image Source – Artfoto Studios
10. The silver-on-orange combo:
Image Source: Fashion World Hub
11. A floral embroidered orange lehenga:
Image Source: Aisha Rao
12. Monochrome orange for the win:
13. Even with orange, we love a hint of red:
Image Source: Instagram/Sonam Bajwa
14. One with muted tones of green and earthy shades:
Image Source – Fatima Tariq
15. You Can't Ignore Me Brick Brown Tulle Lehenga
Outfit by Papa Don't Preach by Shubhika
16. A Maximalist Bride's Dream Mirrorwork Orange Lehenga
Outfit by Abhinav Mishra
17. Sunset Orange Customised Embroidery Lehenga – Great pick for Mehendi
18. Muted teal embroidery on a beautiful orange:
Image Source: The Wedding Story
19. A Manish Malhotra Creation Looking Ethereal in Orange
Outfit by Manish Malhotra
20. Freshly Blooming Marigold Orange Lehenga
Image Source: DreamKkraft
So, which orange lehenga are you planning to wear for your wedding? If you want to scroll more bridal lehenga colors for your big day, you are welcome to Weddingz.in!
Image Source – Pinterest unless specified.
Get upto 30% Off on Venue & Services