search
Search for venues, vendors and more
Indian Wedding Car Decoration Ideas that are Fun and Trendy
Wedding car décor is an important component of weddings. After all, this is the royal ride in which price charming will sweep you away to your new life. With most grooms choosing fancy cars, like Mustangs and VW Beetles over ghodis, wedding car decorations are beginning to see the daylight and have as important a thing to plan and think about as your wedding décor.
Simply selecting a car is not enough. You've gotta jazz it up and to make it worthy of being your royal ride. In the west, friends or family generally take the responsibility of decorating the wedding car. Here in the India, we have the wedding decorator to work his magic, even when it comes to your best ride.
If you're anything like Monica Gellar from F.R.I.E.N.D.S kind-of-bride who loves to take all things in control, including the wedding car décor, we have some really cool and trendy wedding car decoration ideas that may be perfect for what'd you'd like your wedding car to be. Match the car décor to your overall wedding décor or wedding theme. Attention to detail is what matters most.
From dainty additions to banners and full cover arrangements, these wedding car decoration ideas are sure to make your bidaai scene or a wedding get-away encounter an elegant, unforgettable and classy affair.
Minimalist Car Decor
So, for those of you who dislike sitting in a car that's covered in a blanket of flowers, or you may want to go the environmentally conscious way, these minimal trails of flowers additions will surely impress you. High-class cars like Mercedes, Audi, BMW and Skoda look amazingly classy the way they are, therefore less the décor the more elegant the appearance. Take cue from these minimal car décor ideas.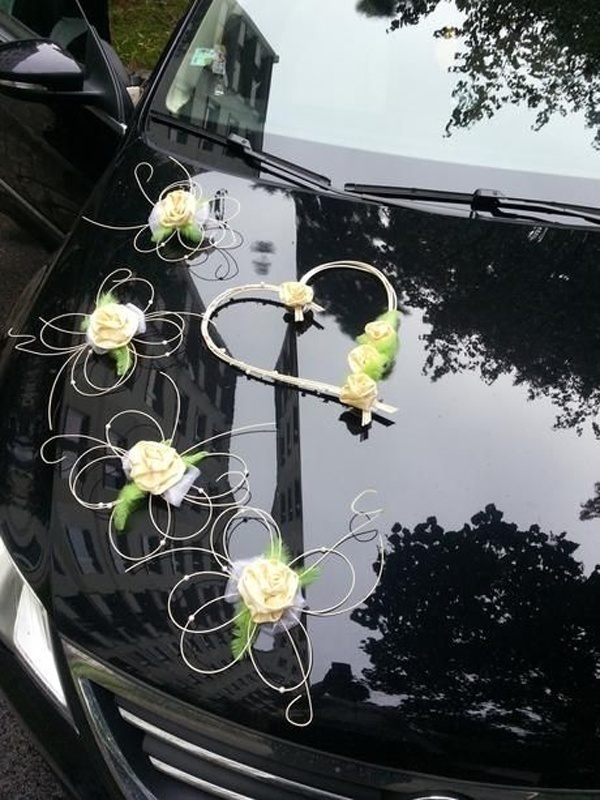 Bountiful Bouquet Additions
Matching the wedding car decoration to the wedding theme is a trend that is recently catching up. Taking it a notch higher, how about matching it the bride's bouquet? Well, an Indian bride wouldn't necessarily have a bouquet in that case you have an option to match the car décor to your theme. But for Christian brides, this idea is no less than gold!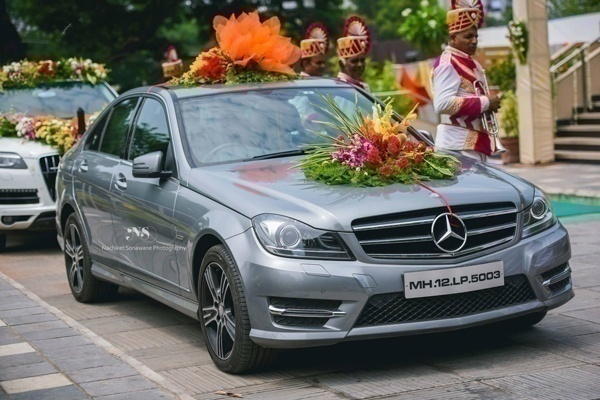 When Just A Bouquet Is Not Enough?
Keeping it minimal again with just trail additions to the bouquet is another classic style to amp you wedding car decoration.
Bumper Frame Wedding Car Decorations
Decorate just the bumper frame with a gorgeous garland of fresh lilies, carnations, tulips and of course roses. These make for an eye-catching adornment that doesn't in any way look overly fussy.
Boutonniere for Your Wedding Car?
As weird as it may sound, adding a flower arrangement similar to your boutonniere is sure to stand out and simultaneously blend well into your wedding celebration.
Mini bouquets look as adorable as the boutonniare too
Unique Rear Wedding Car Decoration Ideas
From green garlands to mini little gardens, classic can trails to 'Just Married' posters and banners, ride away in style with your spouse on a beautiful journey of life.
Paint the window clings without distorting the driver's view
Be a child again – add some cheerful fun with balloon additions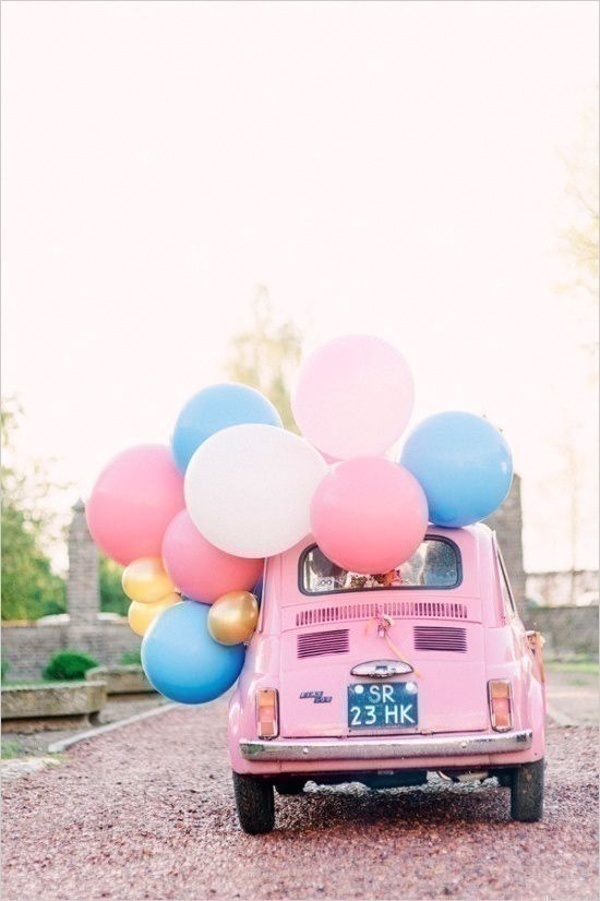 Classic car decoration with ribbons – Use ribbon colours matching to the dominant flower colour
Looking for something kitschy? How about some colourful bow additions?!
Some cute little personalizations
Heart shape cutouts
Simple or colourful banners
Or a chalkboard, which can later be used as a photo booth prop 😉
Tying tiny plastic bottles, cans or shoes to the rear of the wedding car
This is a bizarre tradition followed in the west that is considered to be a good luck for the couples. Introducing your Indian guests to this weird concept will not only lighten the emotional bidaai moment, but will get you some good luck too. Win-win!
Match the strings to the colour of your cans or paint the cans to match your flowers. A cool do-it-yourself technique, this is one space where you can go crazy being creative.
Getting married in December?
Add a festive element in your wedding car decoration with a beautifully designed wreath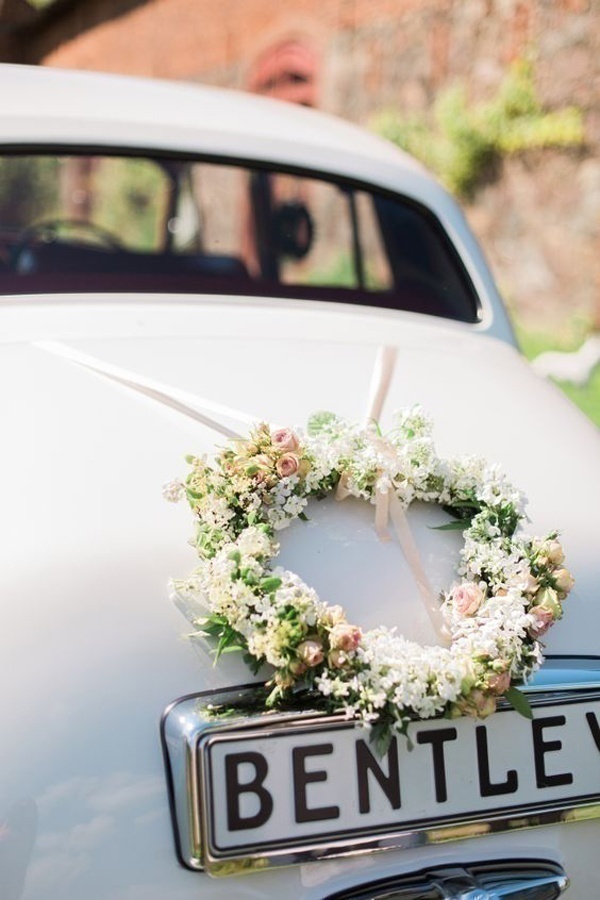 Indian weddings minus genda phool – Never!
For the ones who love all things heavy, even when it comes to car décor, try on this mesh blanket of genda phool to adorn your wedding car in a unique style. 
Some unusual wedding car decoration ideas from our real weddings
Colourful chattars for royal themed weddings
Colourful net fabrics matching your flower decoration
Have more suggestions? Let us know in the comments section below.
Get upto 30% Off on Venue & Services