search
Search for venues, vendors and more
Please Enter your details and our executive will give you best quotes
Marriage Dates in November 2020
November 2020 has one of the best festivals, Diwali. A few days after Diwali comes the Tulsi Vivah Day. As per Hindu beliefs, this day marks the end of monsoon and the beginning of the Wedding Season. 
With winter approaching, November surely is a pleasant month to get married in. This is one of the most preferred months when people want to get married. There are multiple reasons why you should choose November as your marriage month. Firstly, you feel all breezy even under the hefty lehenga, your skin is not irritated with all the jewelry, breakouts are unlikely to happen due to the excessive tanning. Secondly, you can have the perfect lawn wedding. The mehendi and sangeet functions are best held under the blue sky with sunlight streaming in and adding to the bridal glow!
To ease your wedding planning we are already here with the auspicious dates for your marriage. We have listed out the muhurat dates as per the Hindu Calendar and the dates that people are inquiring for; we call it Weddingz Hot Dates!
Weddingz Hot Dates
The date that people inquire about the most are Weddingz Hot Dates. These dates might not tally with the Hindu Calendar but are being highly inquired for. If you do not wish to rely only on the marriages dates available on different sources you can go for these dates. These are not based on any stars or moons but are based on what you people are looking forward to.
Well, now that you have all the reasons to get married in November 2020, start by booking a venue at Weddingz.in
Marriage Dates November 2020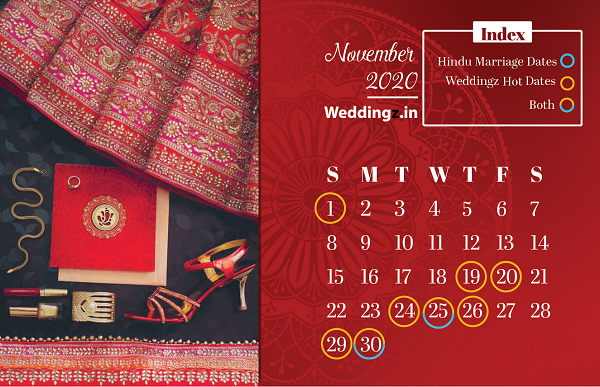 Auspicious Hindu Marriage Dates 2020 – 25th and 30th
Weddingz Hot Dates 2020 – 1st, 19th, 20th, 24th, 25th, 26th, 29th and 30th
Hindu Marriage Dates in November 2020 are only two but there surely are Bengali Wedding Dates and Tamil Muhurtham Dates that do not tally with the Hindu marriage Dates.
Looking for Wedding Venues?