search
Search for venues, vendors and more
5 Unusual Wedding Lehenga Colours That Will Steal the Thunder
We all know the standard colour for a bride at her Indian wedding but as times are changing more and more new-age brides are ditching the tried and tested red and instead, are opting for varying lehenga styles in a number of other colours. But even those colours seem to be overused, don't you think? Every bride wants her wedding lehenga to unique and amazing. While colours like blue, pink and green are certainly different, they wouldn't really have you standing apart from the other thousand brides who chose to wear that shade in their attempt at being unique. So what we have for you here is a list of 5 unusual lehenga colours that will make sure you look exclusively beautiful on your big day.
Read on to watch everyone's jaw drop as you make that bridal entry!
PRETTILY PASTEL LEHENGA COLOURS
These light lehengas add a whimsical, airy touch to your wedding look. Go for light pinks, blues and purples with glitter embroidery for a princessy look. Floral prints and light fabric work great with pastel shades as well.
NUDE AND NEUTRAL LEHENGA COLOURS
These are for all the brides who love class and elegance. Neutral wedding lehengas speak volumes in chic sophistication. You could try rustic neutral looks, glittery neutral looks and many more. If you don't like an all-neutral look, try pairing it with other colours.
VIBRANTLY NEON LEHENGA COLOURS
Fun, quirky brides, you've found your go-to! Add some off-beat spunk to your wedding attire by incorporating neon colours. Silver embroidery works fabulously with these. If you feel like all-neon is too loud, tone it down with a subtle blouse.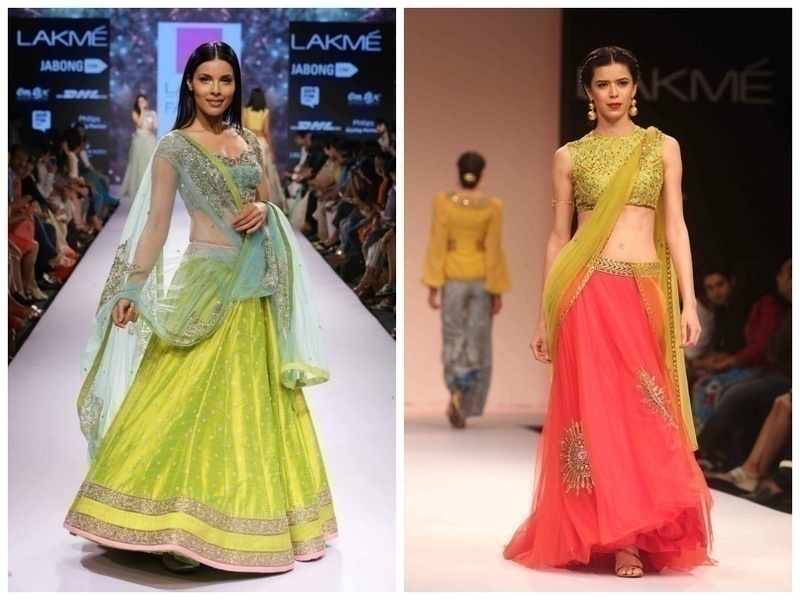 CLASSY AND SOBER GREY LEHENGA COLOURS
Grey-themed wedding wear is as mesmerizing as it is different. Go for embroideries and indo-western styles and layer it up to jazz up your outfit. You also have tons of shades to choose from! Silver or black embroidery looks fabulous with grey lehengas.
FUN COLOUR-BLOCKED WEDDING COLOURS
Colour-blocking is a major fashion trend so having a colour-blocked wedding theme is a great idea. It is best done with bright, happy colours that could be of contrasting shades or of the same family. So all you need to do is pick your favourite colours and aesthetically put them together.
Image source: pinterest.com
Get upto 30% Off on Venue & Services