search
Search for venues, vendors and more
Steven & Beverly Mumbai : Partners of 10 Years, Beverly and Steven finally tied the knot by Mumbai's Coast!
Beverly & Steven 
Beverly and Steven's love story was an ancient one that bloomed as the years passed by with their love, understanding, and partnership growing stronger. They fought through it all only to emerge victoriously and prayed for the dream to manifest into reality. It was the most magical wedding ever!
The Love Story
Beverly and Steven met at the church choir and spent a lot of time together during show practises, mass and other fests. Steven had a soft spot for girls with curly hair and he was blessed with Beverly. Beverly, on the other hand, had no choice but to put up with whatever little (or not!) hair grew on Steven's head. The real deal was in his heart. Their chemistry was always on fire with Steven's wacky humour and Beverly's warm charm complementing the pair seamlessly. After 10 years of being together, Steven finally decided to pop the question to Beverly on her birthday and thus the story begins! 
The Wedding 
Steven loved his south Indian roots and Beverly embraced her east Indian side by the beaches in Gorai. The duo locked down on a beautiful resort named Bobby's dream in Gorai, by the beach and decided to give it a relaxed Bohemian theme. Beverly made a beautiful bubbly bride with a gown that accentuated her curves and Steven looked dapper in his dark green suit and of course shades that completed the look. Her bridesmaids wore green leaf-printed attires in different styles that added to this theme. The venue was a mini Goa destination wedding that was only an hour away from the city! The bridal entourage and the bride also performed the cutest flash mob that depicted the couple's love story and it all had the happiest ending! 
Dream Team
Photography – The Sassy Souls
Hair and Makeup – Beverly Vakil
Location – Bobby's Dream, Gorai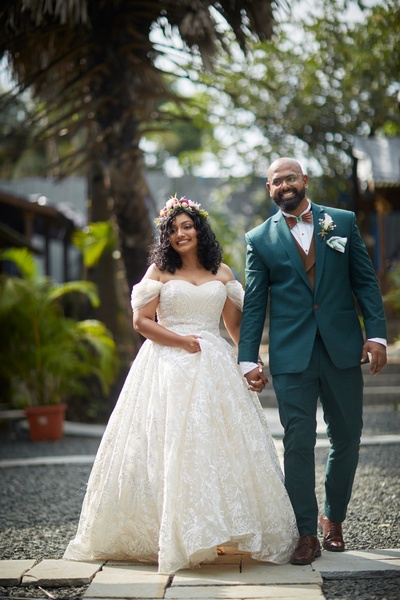 Get upto 30% Off on Venue & Services