search
Search for venues, vendors and more
Disha and Jigar Tied The Knot in A Dreamy Wedding Celebration; Indeed A Celebration of Love!
They met, they fell in love, and they lived happily ever after. Yes, this is the love story of the couple that we are going to give you full insights about in today's blog. You will absolutely adore the couple as much as we do. So, hang with us for a little while more and you will also fall in love with their magical story.
The Love Story
Their love story started back in 2009 when Jigar and Disha were in Junior College. They fell madly in love with each other, and they have been inseparable since then. Their love story is nothing less than a movie plot. High School sweethearts spending a decade together only to tie the knot at the end. We are all just mesmerized by the magic of their tale.
The Proposal
So, right on the day of their 10th anniversary, Jigar surprised Disha by proposing to her. It was back in 2019. And, like their extraordinary tale, their proposal wasn't just simple too. Jigar might have planned this for months before executing it. He booked a yacht for making this moment a milestone in their journey. Oh! Their proposal might have been so surreal. Jigar popped out the ring and said, 'This is what I did 10 years ago for a relationship and now I am asking you for marriage, will you marry me?' And she had the biggest smile on her face as she exclaimed a 'yes!'. That's just perfect!
The Wedding
Which story is complete without any twist. Their story had its downs too. When they were all set to get married to each other, the COVID pandemic hit the world and everything came to a stop, including their wedding day. Since the day they got engaged, they were planning and it was heartbreaking to see their plan getting wasted. That's when they decided to take the remote control back. They downsized their wedding guest list and got married in a cozy ceremony held at the beautiful destination The Gateway by Taj, Nashik. They did everything they could to make their wedding day a dreamy one. And, with a keen eye for detail, their decor was on-point and they tied the knot without any hassle just to be together forever.
The Photographer
Yes, we had to extend a special mention to the photographers of this particular wedding day. They are none other than, WhatKnot Photographer. They weren't just there to capture their wedding nuances. They were there to capture their proposal too. Right from that day to the last day of festivity, they were there to give us picture-perfect memories. Every shot captured by the Whatknot team expressed a plethora of emotions and also gave a treasure trove of memories to cherish.
The Dream Team
Photography and Videography: WhatKnot Wedding Photography
Wedding Planner and Decor: Vivaahsutra by Vinod Daryani
Groom's Outfits: Kora by Nilesh Mitesh (Engagement, Wedding),Ajay Arvindbhai Khatri (Haldi), Prima Czar (Sangeet)
Bride's Outfits: Khatri Jamnadas Bechardas (Engagement), Aari (Sangeet)
Bride Makeup and Hair: Mamta Parsana
Invites: Desai Arts
Choreography: Priyanka Modi
Entertainment: DJ Monty (Sangeet) & Rohan Mehta
The Photographs
Here are the amazing pictures that we were talking about. Scroll down to see the magic with your own eyes.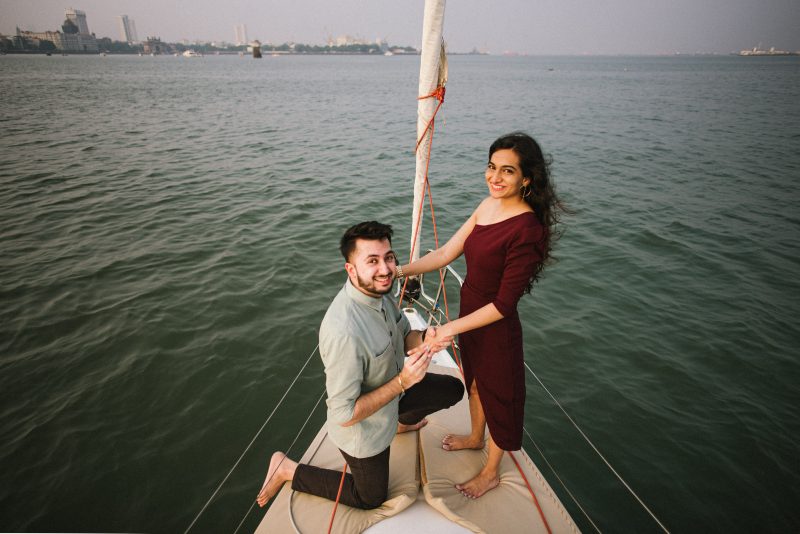 So, this was all about Jigar and Disha. It indeed was a fairytale love story, and the only thing that we can say about them is that they "were a true work of art."
Get upto 30% Off on Venue & Services